PETERS DENTAL CERAMIC STUDIO LTD.
TORONTO, CANADA

CAST PARTIAL DENTURES
The success of a great partial denture depends on the proper treatment planning of the case. We prefer to obtain study models from the dentist before the case is started. We perform an in depth STATIC Analysis of the models to determine the best location of the rests and clasps to reduce the axis of rotation, therefore making the finished product not only an aesthetic one for the patient but also fully functional without the tipping effect that is associated with many of the partials on the market today.
Coupled with the proper design, the materials and equipment we use are the best on the market.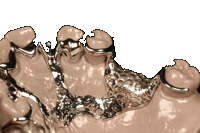 The Alloy used is WIRONIUM, to date the best chrome alloy on the market. With its greater ductile yield, tensile strength and high elongation limit the partials have a greater resistance to deformation. The clasps can be adjusted over and over again without the fear of clasp fracture. The alloy comes with a biocompatibility certificate.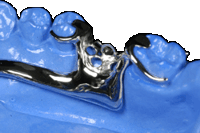 If you would like to provide your patients with a truly superior cast partial denture, send us your study models and see the results for yourself.